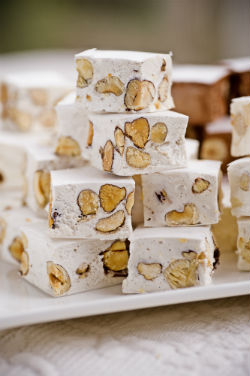 Literally Brilliant is delighted to have been chosen by Rinaldi Confectionery to provide marketing consultancy and mentoring services on an ongoing basis.
Rinaldi Confectionery has been making high quality, authentic, Italian (torrone) style nougat for over 20 years and in that time has won numerous awards for excellence but hasn't been able to capitalise on that history to date. For this reason they have sought some strategic marketing expertise to enable them to gain the market recognition worthy of the quality and authenticity of the product.
"We have a community of consumers who understand the authenticity and quality of our nougat", says Rinaldi Confectionery Managing Director, Roberto Rinaldi. "But there are a lot of lovers of fine torrone out there that don't know we exist. We need to put steps in place to get our product better known. That's one of the reasons we are working with Literally Brilliant."
Rinaldi Confectionery had a genesis not uncommon in the food industry, in the family kitchen. The Rinaldi family would toil for hours in their kitchen to try to make torrone as they had remembered from Italy prior to immigrating to Australia in the 1960s.
The traditions and recipes for authentic Italian torrone, the Italian name for nougat, were handed down in the family from father to the son, Roberto. He took the responsibility for making the family torrone very seriously by studying books and historical industry journals, travelling and talking to retired pasticcerias to develop the highest quality torrone he could make. In 1994, Roberto converted his family passion into a business that made premium quality Italian style torrone nougat available in Australia.
"I think there is an education task that needs to be done here as well", says Roberto Rinaldi. "There are a lot of people who understand what good quality nougat should taste like, its texture and how it should be made. Yet there are also a lot of people in Australia who like nougat but are really only now starting to be able to discern the differences in the qualities of nougat. Again, this is where Literally Brilliant will help us move forward."
Rinaldi Confectionery have retail outlets selling its nougat in all Australian states but the brand's strongest penetration is in the food & wine community in South Australia.
"I think there is a lot of up-side potential for the brand", says Literally Brilliant Managing Director, Michael Neale. "We love working with brands that are focused on the quality of their offering. It then becomes a challenge helping consumers to understand and appreciate that quality. I am sure consumers will taste the quality of Rinaldi nougat once they try it!"
To find out more about Rinaldi Confectionery visit: rinaldiconfectionery.com