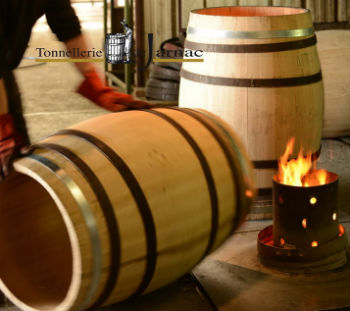 The appointment of Adelaide based marketing consultancy firm Literally Brilliant is yet another confirmation that artisan French cooperage, Tonnellerie de Jarnac, has made its Australasian head office near the Australian premium wine districts in Adelaide.
Literally Brilliant has been appointed to provide ongoing strategic marketing consultancy services to Tonnellerie Jarnac Australia – the Australasian subsidiary of the French premium oak barrel manufacturer. "We are delighted to have been chosen by Tonnellerie Jarnac Australia to provide strategic marketing consultancy and mentoring services on an ongoing basis", says Michael Neale, Managing Director and Principal Consultant at Literally Brilliant. "We have a proven track record with premium brands and we are very happy to have been given the opportunity to work with this prestigious French brand".
Tonnellerie de Jarnac is a boutique oak barrel cooperage in the town of Jarnac, near the prestigious wine growing region of Bordeaux, France. It is a family owned artisan maker with its own stave mill and its own supply of premium seasoned wood, making just over 5000 barrels each year. Last year just 50 barrels were reserved for the Australian market.
"We have an interesting story to tell to winemakers and that's where we think Literally Brilliant could really help us out", says Mr Richard Bate, Managing Director of Tonnellerie Jarnac Australia. "The cooperage in France is a small volume premium artisan maker. It still makes barrels by hand. But at the same time, it has invested in technology and expertise that you would normally only see in much larger operations." This investment in technology and expertise means that the Tonnellerie de Jarnac premium handmade barrels can be made to very high quality standards, exacting specifications, with high reliability and complete traceability. This combination of art and science seems counter intuitive at first glance but the promise is extremely exciting for premium wine makers.
"Tonnellerie de Jarnac has a limited production capacity but I have reserved a much larger allocation for Australia this year", say Richard Bate. "So we need to find a way to tell our story to Australia's premium wine makers, help them understand our proposition and then manage demand to match what I can get from France". As Mr Bate secures a larger proportion of the Tonnellerie de Jarnac barrels produced in France, he will be able to service premium wine producers from the Margaret River through to Central Otago from the operation in Adelaide. www.tonnelleriejarnac.com.au